​Industry leaders often arise where we least expect them. In the case of Tradestaff, this leader is General Manager Janice McNab, the organisation's matriarch – a woman who started 20 years ago at Tradestaff ground zero and has since been instrumental in driving the business to where it is today.
Both respected and beloved by her employees and colleagues, Janice has had a profound effect on the culture, growth and success of Tradestaff over the years. To celebrate her time at the organisation, we spoke with some of her colleagues – Kevin Eder, Sue Harrison and Amanda Flavell – to gain insight into her impact on both Tradestaff and on New Zealand's industrial recruitment industry as a whole.
Let's take a look at Janice's accomplishments and hear firsthand how she's changed the lives of the people she works with.
"Tradestaff are seen as the leaders in the industry, and that comes down to the relationships Janice has forged."
Beginnings at Tradestaff
Before Janice joined the company in August 1997, it consisted of one person: Founder and Managing Director Kevin Eder. Only a few weeks after she started as an industrial recruitment co-ordinator, Kevin fell ill and was in hospital for some time, leaving her to effectively run the company in his absence. She proved to be an adept leader – so much so that the two soon found themselves tripping over one another.
"As Janice continued to grow and learn more about the industry, it became very obvious that she and I were filling the same space in the business," Kevin explains. "Even though she'd only been in the industry a year, it made sense to hand over the Christchurch business to her while I went out and started new branches throughout the country."
Tradestaff quickly grew from a two-person show to a successful international organisation under Kevin and Janice's supervision. Sue Harrison, Tradestaff's National People and Capability Manager, explains how Janice's relationship-building and leadership skills have propelled the company to where it is today.
"Tradestaff are seen as the leaders in the industry, and that comes down to the relationships Janice has forged with the Labour Inspectorate, with MBIE, with immigration and with our competitors," says Sue, pictured below (left) with Janice (center) and Amanda (right). "Those people now come to her first if they have questions – she's become an industry leader."
Tradestaff and the Christchurch rebuild
After the disaster in 2011, the Tradestaff head office and many employees' homes were severely damaged, and the company was struggling to recover from the devastation. According to Sue, Janice was the glue that held everyone together during such a difficult time.
"It was an enormously challenging period that required very strong leadership – the building was broken, servers and phones were broken, people were broken," explains Sue. "To recover, we needed someone of amazing character and resilience to take the lead, and Janice stepped up."
"We needed someone of amazing character and resilience to take the lead, and Janice stepped up."
Amanda Flavell, Tradestaff's National Health and Safety Manager, adds that Janice's positive outlook and humour helped the team power through such a difficult time.
"She's always helped us remember how important it is to have a good laugh," says Amanda.
After getting the business itself back on its feet, Janice helped Tradestaff to become the first labour-hire company signatory to the Canterbury Safety Rebuild Charter. This charter was developed in the early days of the rebuild in an attempt to make sure that everyone working on the project remained safe and healthy throughout the process.
Her influence in the charter proved her capabilities, and she was soon asked to represent the Recruitment Consulting and Services Association (RCSA) in roundtable discussions with the IRD, ACC, the Labour Inspectorate and Immigration regarding the rebuild. Janice demonstrated an impressive knowledge of the labour-hire industry, challenging the conventional views of the regulators and lobbying for the safety of the construction workers in the Canterbury rebuild.
This type of collaboration between numerous on-hire companies, government agencies and other regulatory authorities required a significant deal of patience, command and influence. Luckily, Janice was up for the task. Sue and Amanda, in their NZ Influential Woman of the Year application on Janice's behalf, explain:
"Janice's ability to facilitate the coming together of the industry demonstrates both her influencing skills and the respect she's gained amongst her peers. Acknowledged for this, Janice collected a SARA award for Recruitment Leader of the Year on behalf of Tradestaff and the Canterbury labour hire Safety forum."
​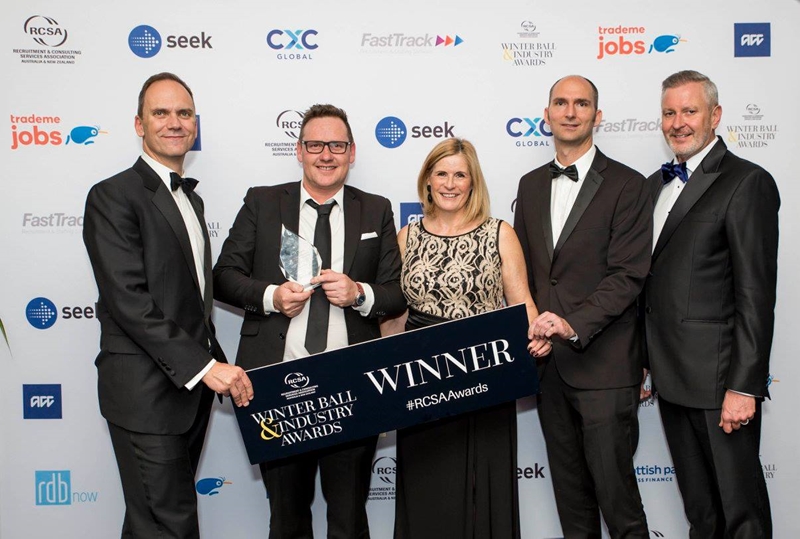 Janice and other members of the Tradestaff team at the RCSA Awards earlier this year.
Beyond Tradestaff
Though she has worked at Tradestaff for the past 20 years, Janice's reach extends far beyond the organisation. Over the course of her career, she has sat (and continues to sit, in many cases) on the board for a number of organisations, such as Clown Doctors Charitable Trust, the Safety Charter Working Group and the RCSA.
Her notoriety as a fearless and capable leader in the on-hire industry has led to her being asked to speak at numerous events, like the Safeguard National Health and Safety Conference hosted by ACC. At this event, Janice spoke to an audience of 500+ organisations in the industrial arena about the collaboration in the Canterbury rebuild and its impacts on the construction industry going forward.
Stuart Lumsden, previously the Christchurch Operations Manager for the New Zealand Customs Service, reflects on a time she spoke to his staff about leadership from a woman's perspective.
"Janice has grown far and above what I'm sure even she thought possible, and as a result of it Tradestaff has flourished."
"While Janice was certainly successful in encouraging our female officers to consider and undertake leadership roles, what probably stands out for me was the reaction from our male officers," Stuart explains. "Many commented afterwards that it gave them cause to pause and think about the leadership journey for women and of some of the barriers they may have been subconsciously putting up."
In reaching such an impressive level of influence and prestige in the industry, Janice has also undergone a great deal of personal development, according to Kevin.
"Janice has developed so much over the past 20 years – it's been less about her keeping up with the company and more about the company keeping up with her," he explains. "Even in the last few years, Janice has grown far and above what I'm sure even she thought possible, and as a result of it Tradestaff has flourished."
How has Janice personally impacted your life?
Beyond her impressive achievements, Janice has had a profound impact on the people she works with. Here's how she has influenced the lives of Amanda, Sue and Kevin.
Amanda: "Janice has helped me immensely. She saw in me things I didn't even see in myself – before Tradestaff, my background was HR, yet she saw the potential in me to build a robust health and safety culture within the company. She has been an exceptional mentor throughout my time with Tradestaff, and I have appreciated her professionalism, integrity and sheer grit."

Sue: "I've been with Tradestaff three years, and throughout that time Janice has allowed me to maintain my own HR style. She'll challenge me if she doesn't think I'm going down the right path, but she'll support me if I can explain my reasoning. I have a very unconventional approach to HR, and Janice has allowed to manage the department the way I want to manage it."

Kevin: "Janice was my very first employee, and she's been with me the entire way. She'll take an idea from me, set it into motion and see it right through to the finish, taking other people along with her on the journey," says Kevin. "She's grown a large group of people around her who are following in her footsteps – so where she's developed, even more significantly, she's developed other leaders.
As you can see, Janice has had a tremendous impact, both personally and professionally, on both Tradestaff and the industrial recruitment industry as a whole over the last 20 years. We are so thankful to have her on our team, and we look forward to see what amazing things she'll accomplish in the future. Congratulations Janice!